Title: Tim Allan - In Concert
Artists: Tim Allan
Recording: Video001
Format: DVD, NTSC
(VHS no longer available)
Cost:
(DVD)
$16.00 +$6.00 p&h (overseas $12.00 p&h)
All prices are listed in US dollars.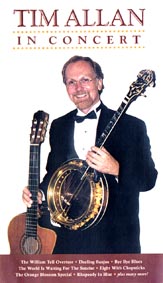 Solo concert by Tim Allan in May 2000 on Banjo and Guitar, Featuring:
(A)PERFORMED ON BANJO:
Alabamy Bound
The Entertainer Rag
MEDLEY- Anything Goes, Four Leaf Clover, Darktown Strutters' Ball, Five Foot Two,
The Charleston, Ain't She Sweet, and Sweet Georgia Brown.

(B)PERFORMED ON GUITAR:
MEDLEY- Ain't Misbehavin', Who's Sorry Now, and All Of Me ( 56k modem - 300k cable modem).
What A Wonderful World
Let The Rest Of The World Go By
MEDLEY- The Battle Of New Orleans, and Jambalaya

(C)PERFORMED ON BANJO:
Old Man River
MEDLEY-Cruising Down The River, In The Good Old Summertime,
Sidewalks Of New York, and Take Me Out To The Ballgame.
Somewhere My Love ("Four Balalaikas")
Eight With Chopsticks ( "Hungarian Rhapsody #2" variations)
MEDLEY- Carolina In The Morning, Rockabye Your Baby, Toot Toot Tootsie,
California Here I Come, and Swanee
The World Is Waiting For The Sunrise (END of First Set)

(D)MEDLEY- Alabama Jubilee, and Waiting For The Robert E. Lee.
Maple Leaf Rag
MEDLEY- The Band Played On, Daisy, Meet Me In St. Louis, and
My Bonnie Lies Over The Ocean.
The Orange Blossom Special
MEDLEY- Bill Bailey, It's Only A Shanty, Bye Bye Blackbird, and
Bye Bye Blues.
Rhapsody In Blue

(E)PERFORMED ON GUITAR:
MEDLEY- Blue Moon, Blueberry Hill, Blue Suede Shoes,
Rock Around The Clock, and Chantilly Lace.
MEDLEY- Malaguena, and Granada. 56k modem - 300k cable modem
MEDLEY- Jamaica Farewell, Yellow Bird, and
All Day All Night Marianne.

(F)PERFORMED ON BANJO:
Ave Maria
It's A Sin To Tell A Lie
MEDLEY- Phantom Of The Opera, and All I Ask Of You.
Dueling Banjos (BANJO & GUITAR) 56k modem - 300k cable modem
MEDLEY- The Beverly Hillbillies, Rocky Top Tennessee, Under The Double Eagle, She'll Be Comin' Round The Mountain, and "The Lone Ranger" (The William Tell Overture). 56k modem - 300k cable modem
America The Beautiful.